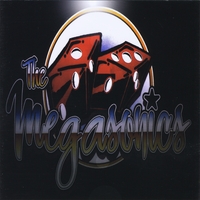 Full on rockin' from the armpit of Ill-noize.
Formed in the sweltering summer of 2000, the MEGA$ONIC$ wasted no time establishing themselves as one of Peoria Illinois' premier Rock & Roll bands. The early years were spent playing shows in Central Illinois and surrounding communities. Constant gigs refined the bands CLASSIC rock and roll sound and entertaining 4 hour plus show. All of the MEGA$ONIC$ are veteran musicians from similar musical backgrounds, and have been part of popular local acts such as: Tantrum, Jynx, Bloody and the Vaynes, Eddie King, The River Rats, Vent, and Yellow Dye 5.
In 2004 the MEGA$ONIC$ released the long awaited CD titled "MEGASONIC!", and the singles 'Dive bar Superstar' and 'Lost in Space' both received regular airplay on Rock 96.5 in Peoria IL. This fueled the bands success in the local club circuit, and earned them countless of the coveted opening slots for various national acts as well. in the Summer of 2005, the MEGA$ONIC$ released a dynamic new CD entitled "Drop the Bomb" on their own MEGASONIC RECORDS label. The disc received rave reviews from fans, critics, and radio all around the world. 2007 was a great year for the band as well, with Mouthful of Blood being featured in the independent horror film GAP. With a brand new CD titled "MEGASONIC III" on the way, The musical legacy of the MEGASONICs promises to grow and flourish in 2009. The reason is simple. Musical trends come and go. The MEGA$ONIC$ have always stayed true to the music they, and their many fans, know and love. ROCK & ROLL.
Check Us Out On Facebook!