Drums…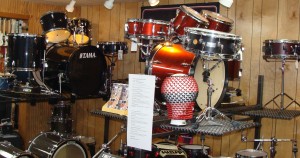 It's pretty much a proven fact that all the girls like drummers. Or if you are a girl, guys totally dig that. It's plain and simple fact that we regard in the highest magnitude here at Flores Music. Whether you believe this to be true or just kind of true, we can set you on your path to greatness in becoming the best drummer you can be.
Are you thinking about buying a starer set? Look no further. We can set you up with a great deal on the drum set of your dreams.
Looking to upgrade your set, or just add to it? Stop in we'd be happy to help you find the right thing. If we don't have it, we'd be happy to order it for you.
Here are some of the brands of drums, cymbals & accessories that we carry: