Guitars…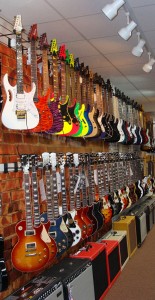 Yes, everyone wants to be a guitarist, right? We've got all the gear to help you get started playing, or upgrade your current instrument & equipment. From beginners to pros and everyone in between, we can take care of you & your needs.
Remember, window shopping is free!  So come on it & check out what we've got in stock. There are tons of electric guitars, acoustic guitars, basses or whatever you desire right at your fingertips.
Our staff is filled with some of the most knowledgeable and experienced musicians the area has to offer. So if you have any questions, we are here for you.
We carry just about any kind of guitars you can think of. Stop by our showroom and see for yourself.                                                                      Just a few lines we carry are: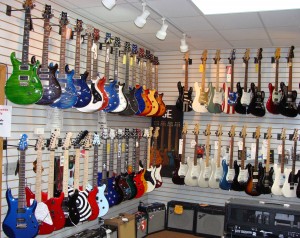 Gibson
Fender
Paul Reed Smith
ESP/Ltd
EVH guitars
G&L
Epiphone
Ibanez
B.C.  Rich
Ernie Ball/ MusicMan
Warwick
Breedlove
Ramirez
Dimarzio
Seymour Duncan
EMG pickups
Fishman Acoustic Pickups
Mesa/ Boogie amplifiers
Ampeg
Peavey
tc electronic
MXR/Dunlop
Boss
Cool Picks
GHS strings
Elixer Strings
DR Strings
Martin strings
Ernie Ball Strings